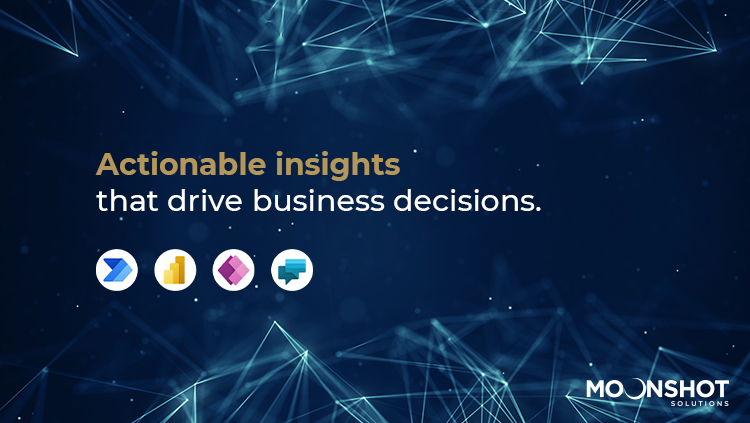 Gain Insights and Boost Productivity with Microsoft's Power Platform Tools
By Billy Miller – Manager of Business Intelligence Development
It's no secret that data gives businesses a competitive edge. It grants decision makers access into their processes, determines the success of products, and helps businesses pivot to meet new customer trends. However, simply capturing and analyzing data isn't enough in our fast-paced world.  
Data comes with heavy upkeep. It often requires businesses to pull in developers to clean and prepare data before wrangling it into a usable state for actionable insights. With the shortage of tech talent, many businesses are turning to low-code/no-code applications like Microsoft's Power Platform to create custom end-to-end business intelligence solutions. 
And it makes sense. The four branches of Power Platform tools – Power BI, Power Apps, Power Automate, and Power Virtual Agents – enables users with little to no developer experience to build their own applications with the installed templates. While this shiny promise gives hope to decisions makers looking to optimize workflows and cut costs in a shaky economy, novice developers still need guidance from experts who understand the platform from the inside out.  
So, how do these tools work? 
Power BI is a data and analytics visualization platform. The reporting tool creates a secure hub for businesses to integrate data from multiple sources and transform it into easy-to-read dashboards. It helps decision-makers uncover insights and convert data into actionable to-dos for better performance.  
Power Apps is a low–code/no–code application developer. It enables users to design apps customized to fit business needs and connect work across web and mobile. The tool also integrates other services within the Power Platform, supporting the app's overall purpose for your business.    
Power Automate is an automated workflow tool. The platform helps organizations streamline repetitive tasks with tailored steps that fits your process roadmap. It also records and highlights any bottlenecks in your workflow, allowing businesses to adjust and boost productivity. 
Power Virtual Agents is a custom chatbot platform. This tool supports organizations managing online inquiries from customers and can even be integrated for employees within the Microsoft Teams app. The bots have access to a library of common questions and answers created by your team that engages with customers without pulling employees away from their work. 
The real power behind these tools is their ability to work together and create the application your business needs.  
Our end-to-end analytics consulting service helps decision-makers in need of professionals that bridge the gap between technical experience and business stakeholders. Moonshot's team possess the expertise to create dashboards that analyze performance on business goals, streamline manual and time-consuming tasks, and strengthen business strategy. We approach each Power Platform solution with your concern for security in mind, assisting with the nitty-gritty work of determining access levels and safely storing data in the cloud.  
If you're wondering if there's a better way to work, there probably is. Collaborate with our creative problem-solvers to reimagine business intelligence. To learn more about our approach to Power BI & Power Platform, visit our webpage at moonshot-solutions.com/business-intelligence.