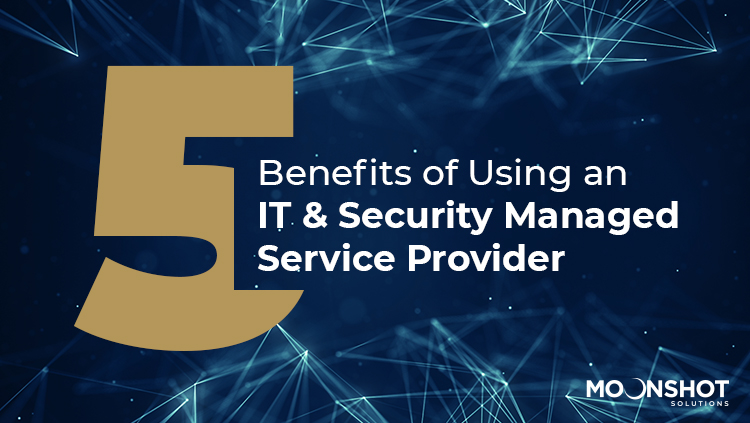 5 Benefits of Using an IT & Security Managed Service Provider
By Aaron Lafferty – VP of Professional Services
In the 21st century, technology has seamlessly embedded itself into almost every aspect of both our personal and professional lives. These digital ecosystems have transformed the way we communicate, work, and interact with the world, bringing about unprecedented convenience, connectivity, and efficiency and influencing everything from how we manage our daily tasks to how businesses operate on a global scale. 
As we continue to explore and coexist with new technologies and platforms that significantly impact our work, collaborating efficiently, safeguarding our systems, and discovering new solutions are paramount…now more than ever.   
Working with a Managed Service Provider (MSP) specializing in technology can offer numerous benefits to businesses of all sizes, managing and overseeing your IT infrastructure, services and support on an ongoing basis.  
Top #5 Reasons to Use an MSP 
#1 Cost Savings and Predictable Costs: MSPs often provide services at a lower cost than hiring and maintaining an in-house IT team with those costs including salaried positions, insurance and benefits, taxes and paid leave. By paying for only the services you need, you can reduce labor costs and only pay for the services you need.  A Cisco report revealed that Managed IT services can reduce your recurring in-house costs by up to 40%, and increase efficiency by 50 to 60%. 
With managed services, you typically have a predictable monthly or annual cost, making budgeting and financial planning more straightforward. 
#2 Expertise and Specialization: Technology MSPs typically have a team of highly skilled professionals with expertise in various IT areas, which can be beneficial for your business. They are up-to-date with the latest trends, technologies and certifications.  
By outsourcing IT management, you free up your internal resources to focus on core business activities rather than worrying about IT infrastructure and maintenance. You'll have peace of mind knowing that you have a team of professionals whose priority is to ensure your technology is operating efficiently and that your information and systems are protected.  
#3 Proactive Monitoring, Maintenance & Security: MSPs can continuously monitor your IT systems to identify and address potential issues before they become major problems. This proactive approach can help prevent downtime and disruptions. 
Robust security services protect your data and systems, including monitoring for threats, implementing security protocols, and ensuring compliance with relevant regulations. 
# 4 Disaster Recovery and Backup: According to CloudRadar, more than half of all businesses need more than one hour to recover from a crashed application, and that will cost an average of $10,000 for a business every hour they are down.  
With the support of an experienced team, you can develop and maintain comprehensive disaster recovery plans and backup systems, ensuring that your data is secure and can be quickly restored in case of a disaster. 
#5 Customized Solutions: MSPs can tailor their services to meet your specific needs and objectives, offering a more personalized approach; long-term planning and strategy; and business goals, business needs and technology service and platform alignment. Additionally, MSPs understand that businesses evolve and their IT needs change, and they are able to offer scalable solutions that can adapt as a client's business grows or experiences fluctuations in demand. 
Businesses should consider outsourcing their IT services to gain access to specialized expertise, reduce operational costs, and enhance their overall efficiency. In fact a 2020 Deloitte report found that 57% of organizations believe that outsourcing can allow them to completely focus on their core business activities. 
IT solutions are readily available to businesses who are looking to ensure their operations run smoothly, even in the face of IT challenges and disruptions, remaining adaptable in a fast-paced work of technology. Reach out to Moonshot Solutions today to find out how our Managed IT Services can help you focus on your business while we take care of the rest.