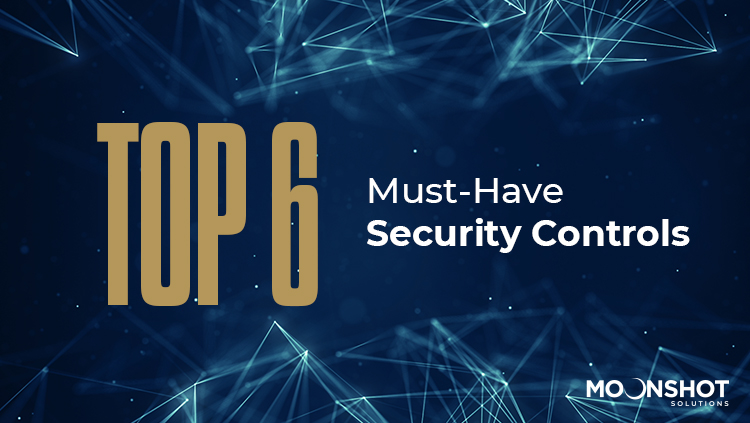 Top 6 Must-Have Security Controls to Shield Your Business
By Matthew Mangels – Director of Information Security & Compliance
Security controls safeguard your company's most valuable data and infrastructure by providing parameters to maintain data integrity, confidentiality of information, and enable data availability. Within the sea of security solutions, it takes time to navigate the tricky waters of cybersecurity to know which preventative measures you can easily implement and communicate with your employees. As your resident IT experts, Moonshot Solutions handpicked the top six security controls essential to shielding your business from potential cyberattacks or threat actors. 
Strong and Unique Passwords Unique passwords for individual sites and services will limit the impact of compromised credentials. Avoid common phrases or words associated with yourself to prevent threat actors from guessing your password. Make sure to include numbers, uppercase letters, and characters such as an exclamation point (!) to strengthen your passwords. 
Multi-Factor Authentication Multi-factor authentication, or MFA, requires users to verify their identity through multiple methods, like biometrics or tokens. MFA ensures that even when a threat actor knows your username and password, they still don't have enough information to access your account. 
Software Updates Software updates are essential as they include patches and fixes for vulnerabilities that threat actors will use to exploit your system. Take the 10 minutes to download the new software update, it could be the difference between a data breach and keeping valuable information safe. 
Endpoint Protection Endpoint protection, or anti-virus, continuously monitors and analyzes device behavior for suspicious or malicious activity. It blocks threats, preventing malware, or viruses, from impacting your device. 
Data Backup In the event of a ransomware attack or data breach, having up-to-date backups is critical. Regular backups ensure that valuable data remains protected and recoverable. 
Security Awareness Training Security Awareness Training equips individuals with the skills to identify and thwart cyber threats before they cause harm. It minimizes the risk of data breaches, financial losses, and reputational damage. 
Are you still working on implementing the top six? Do you already have them in place and are ready to take your cybersecurity to the next level?   
Moonshot Solutions is committed to helping organizations boost cyber security to new levels. Contact us today for a FREE Security Maturity Assessment. Let's develop a roadmap for a safer digital landscape designed for your unique requirements.