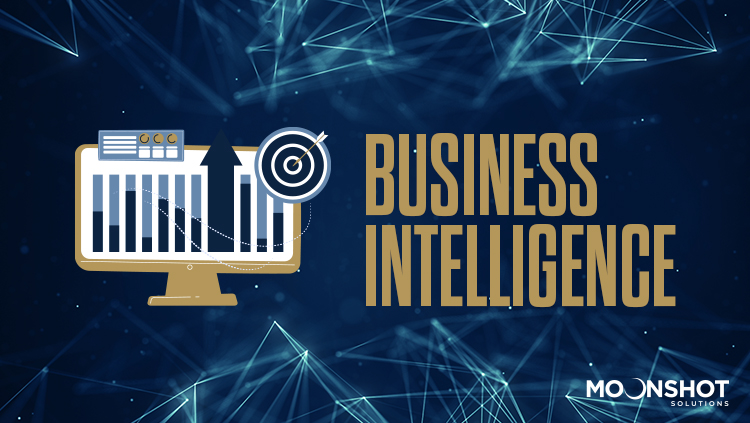 Discovering the Power of Business Intelligence
By Billy Miller – Manager of Business Intelligence Development
In the fast-paced world of data-driven decision-making, Business Intelligence (BI) has emerged as a critical tool for organizations to leverage data for success. However, there are several misconceptions about BI that often obscure its true value. At Moonshot, we are committed to debunking these myths, harnessing Power Platform, and exploring the impact of Artificial Intelligence (AI) on BI. 
1. The Misconception about BI 
One of the most common misconceptions about BI is that it's all about creating visually appealing charts and graphs. In reality, only a small fraction of time is dedicated to this while the majority of the work is spent gathering data, cleaning, and analyzing it. This preliminary work is essential for ensuring that the visualizations are both accurate and meaningful. 
2. Unleashing the Power Platform 
Power Platform is transforming the way organizations operate. It comprises three essential components: Power Apps, Power Automate, and Power BI, each designed to streamline operations, expedite digital transformation, and maximize productivity. In fact, a Forrester Consulting study found that together, Azure Analytics and Power BI can provide value to customers by delivering an ROI of 271% over three years. 
Power Apps are game changers that enable organizations to build custom apps without traditional software development, speeding up digital transformation and enhancing collaboration across departments. Power Automate workflows simplify and expedite processes by automating repetitive and time-consuming tasks with the overall outcome being to operate at maximum efficiency.  
3. The AI Revolution in BI
AI is making BI more accessible, allowing people with non-technical backgrounds to write code, queries, and create dashboards, thereby democratizing data analysis. 
It's easy to overlook the fundamental steps of having clean, reliable data before implementing an AI solution, which can lead to unreliable results. That's why we assist in getting your data ready for AI solutions and provide expert support in implementing, customizing, and maintaining AI-generated code and dashboards, ensuring you get the most out of this transformative technology. 
4. The Significance of Data Visualization 
Data visualization is at the heart of BI, and for a good reason. It helps in narrating a compelling story to business stakeholders by summarizing data, identifying patterns and trends, and making key data points easy to discern. This empowers stakeholders to make informed and data-driven decisions. 
5. What Makes Moonshot Different 
What sets us apart is our passion and curiosity for how data can influence business growth and innovation. We believe in the transformative power of data. And our professional experience allows us to bridge the gap between technical expertise and business stakeholders. But most importantly, it's our identity as analytical thinkers with a flair for creativity and customer service that makes us uniquely equipped to serve you. We're not just data enthusiasts; we're here to provide an exceptional experience. 
Our commitment to data quality, AI integration, and effective data visualization ensures that you gain insights that matter and make data-informed decisions. Stay tuned for more helpful articles into the world of BI, the Power Platform, AI, and everything that shapes the future of data. Reach out to one of our BI experts to find out how Power BI can transform your business.